Skyrocket your revenue with social media marketing.
We assist you to stay connected with your potential leads through popular social media sites.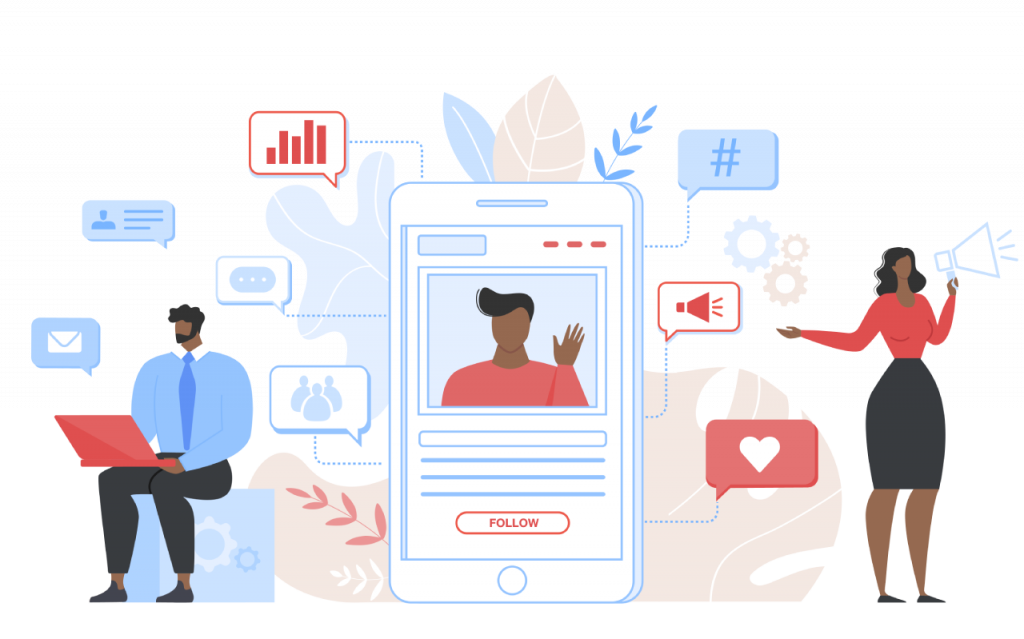 In simple terms,  Social Media Marketing is the use of social media and social networks to market or promote your company's products and services. Social media marketing is important to communicate with existing consumers and reach out to new ones while promoting your intended culture, vision, and mission. 
According to the statistics, there are about 3 billion active social media users worldwide. We at Softwentures are experts in using social media platforms like Instagram, LinkedIn, Facebook, Twitter, Pinterest and Tik Tok to help our clients to increase brand recognition, generate leads, and drive conversions and many more other benefits. 
Social media marketing helps any kind of business from small to large scale organizations to drive their business beyond the tradition. And mainly, these platforms are possibly the best way to reach your target audience. 
Go Digital with Softwentures!
Our social media marketing services are specially designed to provide up to date social media upgrades for anyone who wishes to promote digital content on online platforms as their target audience largely uses.
Ultimately, with our Social Media Marketing strategies, we promise to raise visibility and awareness of your brand to your target audience and other prior and Ad-hoc requests of the client. 
Social Media Marketing Strategy & Campaign Planning
After discussing the initial requirement and conducting market research we develop a specific social media marketing strategy to define your unique industry requirement. Next, as per the agreed strategy we create the monthly campaign schedule and get the prior approval from the client prior to proceeding with the process.

Creative Post Designing
There are several PPC strategies that we can use for attracting high-quality traffic to your website. Branded Campaigns, Solutions Campaigns, Retargeting Campaigns and Conquest Campaigns are some of them. After practicing these kinds of strategies detailed analysis is a must and need to monitor what is the result of those strategies.
Social Media Setup & Branding
We ensure to set up & continue the consistency in the social media setup and branding with using the right methods at the right time in order to make connections and engage with the target audience on pre-specified social media platforms. The defined strong branding strategy leads to establishing the brand in the consumer's mind in the long run.
Social Media Reporting
Remarketing, also known as retargeting, is a popular method of digital marketing in which advertisers offer adverts to people who have visited their website or a certain web page and have taken or have not performed a specified action. It's a great approach to reach out to folks who have previously expressed an interest in your company or brand.

Community Management
After evaluating how your target audience acts on the online platforms we build the bridge of connecting you with the potential target audience with social media marketing strategies. Apart from posting your own social media pages, we identify the most suitable social media influencers who have the most influential power with your relevant target people.
Competitor Analysis
Being aware of what competitors are doing is required for survival. Our market research also include the competitor analysis to stay alert on what is new and will discuss and come to a conclusion the strategies we need to adjust in specific social media marketing strategy.
We have helped social media clients in various industries. Are you next?
As we are fully aware and continuously keep updated with technology changes, work on almost all social media platforms for our valuable clients and specialize in bespoke campaigns, we are ready to provide you with a full solution at one place. The essence of Softwentres as a social media marketing agency, is brought to our customers, creativity and unique content, up to date industry information and technologies, winning strategies with fast results, and quality of the work we do in various social media platforms. Our team closely works with our clients who maintain professionalism and creativity, resulting in unique content. We guarantee to reach out to the relevant target audience while maximizing brand awareness.